Presentation: About Oaxaca, Mexico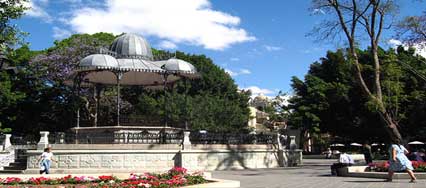 Oaxaca´s Zocalo
The city of Oaxaca is a charming colonial town, where tradition and modernity go hand in hand to produce a delightful array of sights and sounds. It is the capital of the state of Oaxaca - a modern city whose ancient cultures still burst with life to this day.
Ideally situated about 5,000 feet above sea level in a valley between the mountains of Sierra Madre to the east and the Sierra Oaxaquena in the west, the city enjoys almost perfect weather. This makes it an ideal place for lounging in the sand in any of the state's incredible beaches, enjoying its famous ice cream, or just simply sitting in any of the quant sidewalk cafes that line the zocalo, watching the world go by.
Oaxaca's zocalo, the main square, is right at the heart of the city and is home to a variety of parades, concerts and cafes. The city is famous for its three "f's": folk art, festivals and food. Festivals such as the Guelaguetza in July, Holy Week in Spring, and the Day of the Dead in November have attracted a number of tourists all eager to be part of the city's grand festivities.
Aside from its festivals, Oaxaca is also known for its arts and crafts. Whole villages, in fact, specialize in one particular type of craft such as weaving or Oaxacan pottery. This allows their knowledge to be passed down and preserved from one generation to another. Ancient indigenous ruins and traditional rural villages make the city an archaelogist's dream. Zapotec and Mixtec ruins, for example, lie just a few miles from the city.
Architects will also find this city a treasure trove of beautifully preserved churches and colonial houses. Oaxaca is home to about thirty churches, with Santo Domingo de Guzman as the most magnificent. Built in the 16th and 17th centuries, both the exterior and the interior can truly be called works of art. Beside this church is Centro Cultural de Santo Domingo. Formerly a monastery, this Oaxaca museum now houses some of Mexico's finest collections of traditional costumes, jewelry and other artifacts found in Monte Alban, an ancient Zapotec site.
Oaxaca's food & drink also makes the region quite popular among Mexicans and foreigners alike. Most famous are the different kinds of mole, especially "mole negro". It is a dark, spicy sauce which is usually served with chicken or turkey. As testament of the ingenuity of the city's past and present inhabitants, even grasshoppers are included in the menu! These grasshoppers or chapulines are locally known and are served in a variety of ways. Sometimes fried or sometimes simply with garlic, these grasshoppers can be found everywhere, from the vendors on the streets and even in some of Oaxaca's finer restaurants.