Accommodation Options in Oaxaca, Mexico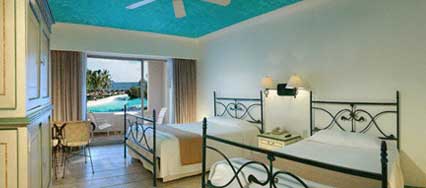 One of the many resorts in Oaxaca
Choosing where to stay in Oaxaca is as important as choosing when to go and what to do. Oaxaca's lodgings range from luxurious five star hotels to quaint but charming resort inns.
The main Oaxaca accommodations are located in the city itself, the coastal areas and also the Central Valleys.
Five star inns in Oaxaca include the Camino Real Oaxaca and the Fiesta Inn. The Camino Real Oaxaca, formerly known as the Stouffer Presidente, is a former convent dating to the 16th century. Now an official historical monument, the hotel's architecture will transport you back to the Spanish Baroque era, with its long, tiled hallways and original wall frescoes leading to sun-splashed courtyards. There is a pool area for visitors to lounge in and two restaurants that serve regional cuisine. This hotel has 91 rooms that are generally large with high beamed ceilings and balconies.
The Fiesta Inn, conveniently located just 15 minutes from downtown Oaxaca contains 120 guest rooms with wall-to-wall carpeting, light wood furnishings and modern fabrics. Like the Camino Royale, there is a large pool and a restaurant, as well as a health club and facilities for business meetings and conventions.
While not a five star hotel, the Fortin Plaza is also a stylish, comfortable hotel suited more for the business traveler. It is located on the outskirts of the city, and has 100 rooms with tiled floors, TVs and shower-only baths. The Hostal de la Noria is much closer to the Zocalo, at only one block away. It offers 54 carpeted rooms with ceiling fans, modern fabrics and wood furnishings.
Those looking for more modest yet comfortable accommodations should try the Casa Colonial Bed and Breakfast. Located about seven blocks from the Zocalo, the Casa is a large house built in the 1800s by an American engineer. There are 14 rooms divided into seven singles and doubles, all furnished with local art, Mexican furnishings and a private veranda.
The Gala Hotel is also about a stone's throw away from the Zocalo. This hotel is perfect for those who want to be in the thick of things but still want to preserve a more intimate atmosphere. It has 36 rooms all complete with cable TV, telephone and ceiling fans.